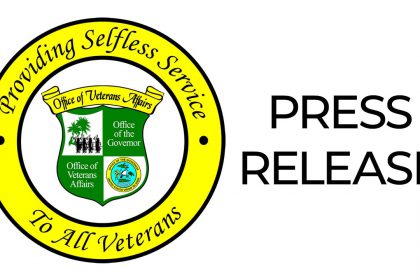 FOR IMMEDIATE RELEASE
MEDIA CONTACT PERSON: Director Patrick Farrell
340-774-VETS (8387)
26 October 2022
Office of Veterans Affairs Hosts Veterans Appreciation Day Events
The Office of Veterans Affairs will be hosting Veterans Appreciation Day events in honor of Veterans across the territory.
St. Croix
Veterans Bowling Social

Free Games and shoes at the Ten Pins Bowling Alley
Free Entertainment by: Stanley and the Ten Sleepless Nights and DJ Silver
Free Lunch and a Free T-Shirt will be provided
Thursday Nov 3, 2022
10am – 2pm
St. Thomas / St. John
Veterans Day Sail

Free Entrance aboard the Kontiki
Free Entertainment by Spectrum Band
Free Lunch and a Free T-Shirt will be provided
Saturday Nov 5, 2022
1pm – 4 pm
Please RSVP no later than Wednesday Nov 2, 2022 by visiting the office in your island district or by calling (340) 727-8390 on St. Croix or (340) 727-8387 on St. Thomas.
Please be advised that veterans can continue to get up-to-date information by visiting the Office of Veterans Affairs website at www.veterans.vi.gov, calling the office @ (340) 774/ 773 – 8387, or by texting the word  VIVets (no spaces) to 888-652-8387.
See Original Press Release – Veterans Appreciation 2022