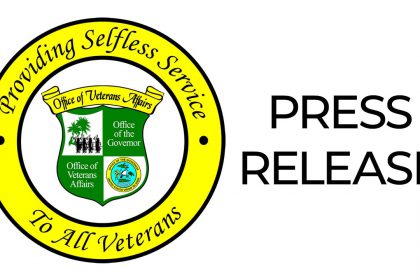 2 June 2020
Burial Honors for Deceased Veterans to Resume June 5th, 2020
The Virgin Islands Office of Veterans Affairs and the Virgin Islands National Guard is happy to announce the resuming of Burial Honors for eligible deceased Veterans. Unfortunately, during the period when the nation took a pause to safeguard as much lives as possible, this service was affected.
Starting June 5th, 2020, all efforts will be made to honor eligible deceased Veterans at their final interment as usual. Family members are asked to visit the V.I. Office of Veterans Affairs in their island district to make the necessary arrangements. As a reminder, only the lawful next-of-kin is eligible to make these arrangements with the office.
Families who lost a Veteran during the time when burial honors were suspended will be afforded the opportunity to be a part of a joint remembrance ceremony. Once details are available, the families involved will be contacted. In the event you did not notify the Office of Veterans Affairs of your loved ones' passing, please contact us at once. This will enable us to include you in the upcoming ceremony.
If there are questions, please reach out to the VI Office of Veterans Affairs using one of the following means of communication:
Phone: (340) 774-8387 or (340) 773-8387
Email to info_va@va.vi.gov
Website: https://veterans.vi.gov
Please contact us prior to coming to the office. Contacting us prior to coming to the office will assist us in continuing to safeguard the lives of Veterans, their families, and the staff of the VI Office of Veterans Affairs.
See Press Release: Press Release – Burial Honors Resume